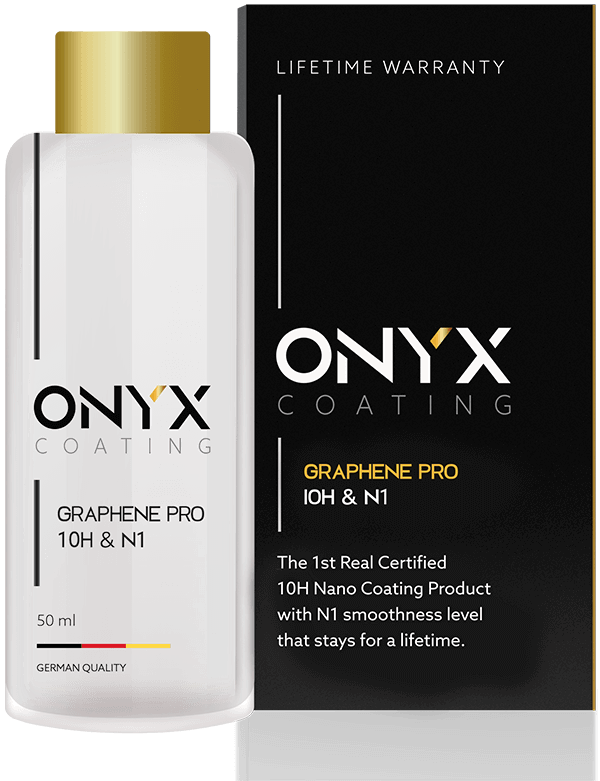 GRAPHENE PRO 10H & N1
Ultra Kemény 10H Kerámia Bevonat
A fejlett Nano-technológia és a Graphene tulajdonságai keverve teszik ezt a bevonatot a tökéletessé, kiváló terméknek az autóápolási iparban, ami nem hasonlítható semmihez.
A Graphene Pro tökéletes védelmet nyújt festett felületeken, fémfelületek, fém és üveg számára 100% -ban garantálja a következő károk ellen vegyszer-, karc- és szennyezőanyag -ellenállás, amely egy életen át tart. Ez A kerámia bevonat vastag réteget biztosít 1000 nm -ig.
Szuper sima, rendkívül fényes és hidrofób láthatatlan védőréteget érhet el egyszerű alkalmazási eljárással.
A Világon első N1 Nano Bevonat
10H Keménység
Élettartamig marad
Az N1 sima felületekhez kevésbé tapadnak az időjárás okozta szennyeződések így a bevont felület hosszabb ideig nagyszerűen néz ki. Mivel a kisebb súrlódási együtthatójú sima N1 felületek tovább tartanak, minimálisra csökkenti a karbantartási munkák szükségességét. Graphene autó bevonat A világ első N1 nanorétege, amely nagyon nagy érintkezési szöget alkalmaz az alkalmazás során. Az N1 a vízlepergetési szöget is több mint 120 ° .gh -val növeli egy egyszerű alkalmazási folyamat során.
Graphene 10H is super resistant to scratches and offers a permanent 10H ceramic barrier, with high-gloss and superb durability. The super-hard coating forms a permanent covalent bond to paint, gel coat, metal, and wheels. Provide a layer thickness of more than 800 nanometersA Graphene 10H rendkívül ellenáll a karcolásoknak, és tartós 10H kerámia védelmet kínál, magas fényű és kiváló tartóssággal. A szuperkemény bevonat állandó kovalens kötést képez a festékkel, gélbevonattal, fémmel és kerekekkel. Biztosítson több mint 800 nanométeres rétegvastagságot.